Bio:
Born in 1971, Torun, Poland. Real name Filip Pietrzykowski.
Stage name:
Tresporros aka Tresperros, music producer, DJ, electronic performer, mixing and mastering engineer
Website, links and contact email at the bottom of the page
Fillip started his musical adventure when he was 12 years old and has since then learnt how to play the guitar. When he turned 17 he started playing in local blues bands, mostly music like the Chicago blues, rhythm and blues hence this becoming his musical roots.
Since University times, he played in many different band formations, playing blues and rock with elements of funk and soul music. 
In the early 90's electronic music became big, and he pretty soon swapped the guitar for the digital instruments.
After finishing University, he moved to Poznan (city on the west of Poland) where he met and got connected with many local artists, musicians and DJ's. Electronic music scene explodes at the time.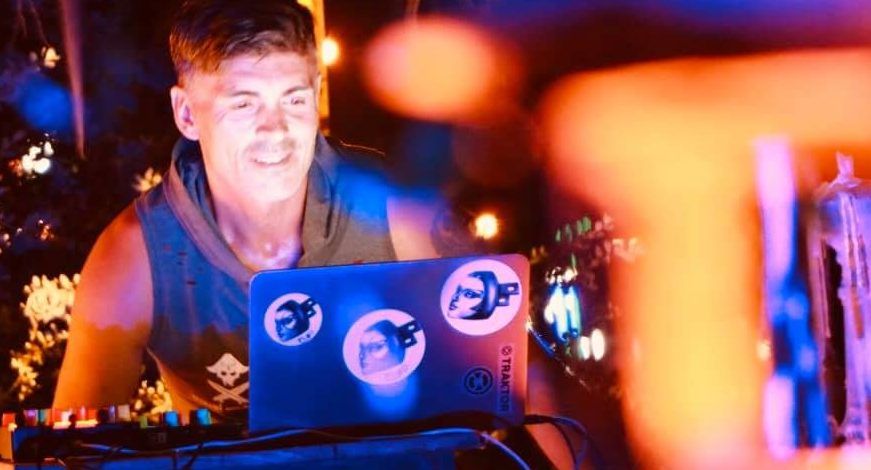 He learnt how to spin the vinyl and got heavily inspired by using vinyl's deck for creating music and in less than a year he started playing his first DJ sets in Poznan's clubs and at private parties. He decides to open own home music studio in Poznan (4Dog's studio) where he found the opportunity to work with many artists from different genres (jazz/soul singer Eva Navrot, MC Maciora (hip hop artist) Marika (currently number 1 on Polish reggae scene) Komercyjna Zbrodnia (hip hop collective) and many more.
He launched Tresperros as a music production team of 3 indiduals including himself. Their musical influence was modern RnB, Hip Hop, Reggae, New Soul, Funk electronic music and New Jazz.
Tresperros released their debut album (as producers) under Sony/BMG, titled ' I tak ci to ukradna/MC Maciora'. 
During that time, Fillip got back to playing on the guitar, and shared his time with different musical approaches which led to the formation of Temp Folder, a Poznan's post-rock band. (Heavily influenced by the music of Tortoise and Talk Talk)
In the very same year Tresperros won the national music competition for the song and got booked for a final gig in London's Scala. ( Fillip left Poland and moved to London/UK with his entire studio and equipment)
After many years of working in the studio, Red Mastering Studio London was launched officially in the year 2010. 
This became soon Filip's main work and he left music production for some time. 
His credits as a Mastering Engineer includes artists like Lee Scratch Perry (creator of a few musical genres including reggae music), Ghetts/Ghetto, a UK's rising hip hop star, double winner of BMA (British music Award) to mention but few. Although his musical horizons are very wide, his vinyl master of British folk/jazz band was referred to as the best album of the decade, he worked on many jazz, folk, and acoustic albums as well but his main area of experience will be urban music (hip hop, funk, soul, jazz, reggae, etc.) and electronic dance music.
In the year 2014, Filip decided to leave the UK and moved to Andalucía, in the Malaga area.
He continued working as a mixing and mastering engineer in his studio and within no time he quickly managed to get in touch with local artists, Djs and musicians, and DJ collective Pug Vinyl was launched a year after.
Plug Vinyl is a collective of DJ's and artists from many musical angles, the parties organized by them were always very diverse. The idea behind Plug Vinyl was to bring together people from different musical vibes. There are Djs playing funk, soul, old school hip hop, afrobeat, as well as reggae, drum and bass, house, techno, broken beat, jungle, etc.
Music collection and experience
His experience as a musician (he plays on several instruments), being skilled songwriter and producer (Tresperros songs were played on a national radio) as well as many years spent in the studio, recording, mixing and mastering albums, gives him a massive advantage as a DJ.
Firstly, he started collecting music since he was 12 years old, not just electronic music, or/and dance music, but his collections includes massive blues, soul, jazz, funk, and rock music collection. Since 90's hip hop music and electronic dance music got included into that list. He knows music and music production from any angle you can imagine.
Apart from the very wide knowledge about the music itself, Filip is very well experienced sound engineer, working professionally  at Red Mastering Studio and previously StudioSE21 in London. His knowledge about audio processing, skills using sound processors in the studio, gives him another big advantage. 
Tresporros DJ sets
DJ sets are exceptional combination of musical tastes, the choice of the playlist/music is crucial, in his sets you can hear a 30 years old songs  mixed with the ones produced a few weeks ago. He is heavily influenced by a musical genres like deep house, house, uk garage, house, nu disco, tech house, minimal, afro house and roots house music, but also hip hop and reggae. Songs he plays are in most cases vocal songs, with elements of funk, soul and jazz, as well as avant garde dance music, perfectly mixed within a deep house vibe.
Favorite DJ's and Producers 
Jeff Mills, Carl Craig, Derrick Carter, Robert Hood, Juan Atkins, Maurizio von Oswald and Mark Ernestus, Dixon, Ame, Henrik Schwarz, Dennis Ferrer, Hyenah, Themba, Mike Dunn, Dario D'Attis, Marshall Jefferson,  Blaze,  Moody Man, Jazzanova, AtJazz, Matthew Herbert, Luomo, Osunlade vel Yoruba, Fred Everything, St Germain,  KinK, John Dahlback, Charles Webster, Roger Sanchez, Johnny Fiasco, Crazy Penis, Robbie Rivera, Metro Area, MRI, Hot Toddy, Nick Holder, etc.
Favorite dance music labels:
Berlin's InnerVision, London's Defected  but also South African label Madorasindahouse, as well as Tool Room Records, GetPhysical, Sonnar Collective, Subliminal, Objektivity, Naked Music, Milk and Honey, Poker Flat or non-existing anymore famous Svek (a pioneers of northern soul dance music from Sweden).
https://youtu.be/Ieri3pXEu3g
Important links :
facebook (artist page)
youtube DJ set video (video below)
Tresperros & Eva (Navrot) as music producer, song writer, recording and mixing engineer
MC Maciora (I tak Ci to Ukradna) discogs  as music producer, song writer, recording and mixing engineer